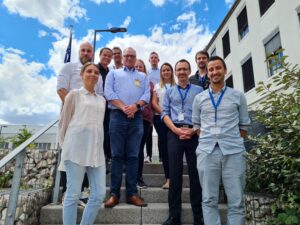 GE is privileged to have welcomed three major transmission system operators (TSOs) from France, Spain and Denmark to our LIFE SF₆-FREE HV BREAKER project. In partnership with GE, the TSOs gained a better understanding of project objectives, received a technical overview of the project, and met the team of experts responsible for developing a 245 kV SF₆-free g³ live tank circuit breaker (LTCB)—GE's future GL314g circuit breaker. 
"This collaborative working group will support our industry's objectives around SF₆-free solutions. In parallel, the aim is also to identify pilot projects to accelerate the implementation of LTCBs in the upper-rated voltage range," explains Joel Ozil, LIFE SF₆-FREE HV BREAKER Project Leader.  
About g³ 
 For over half a century, LTCBs have used SF₆ (or Sulphur Hexafluoride) to extinguish the electrical arc that occurs during switching in HV electrical transmission equipment. However, SF₆ is a potent greenhouse gas that is estimated to contribute 24,300 times more than CO₂ to global warming when leaked, and can remain in the atmosphere for up to 3,200 years.  
GE's alternative to SF₆ is g³ insulating and switching gas. Pronounced "g-cubed", g³ gas represents the culmination of a decade of research and development by its teams in France, Germany, and Switzerland in collaboration with 3M Company. The g³ gas mixture is based on carbon dioxide, oxygen, and fluoronitrile. Fluoronitrile was identified by research and development experts as the most suitable additive to CO₂ and O₂ to reach the targeted environmental benefits of an alternative to SF₆, without compromising transmission equipment's technical performance and footprint. The global warming potential of GE's g³ technology is approximately 99% lower compared to SF₆. In terms of technical performance, g³ high-voltage equipment offers not only the same performance as SF₆ products, but it also features the same dimensional footprint as compared to SF₆ equipment and operates in the same ambient conditions. 
About LIFE SF₆-FREE HV BREAKER  
The LIFE SF₆-FREE HV BREAKER project aims to combine an economically sustainable and climate-friendly alternative gas to SF₆ with improved interrupter technology suitable for outdoor high voltage live tank circuit breakers (HVLTCBs) from 245 kV/50 kA to 550 kV/50 kA and for ambient temperatures down to -30 °C. This solution will offer the potential to move towards the elimination of SF₆ in high voltage air-insulated substations. 
A project with clear objectives 
This project has four main objectives. 
Objective 1: Validate the technical viability of the combination of a new gas mixture based on GE's g³ gas technology and an improved 245 kV/50 kA HVLTCB design for temperatures down to -30°C. 
Objective 2: Set-up a pilot 245 kV/50 kA HVLTCB project at GEs Grid Solutions' premises in Villeurbanne, France, to meet TSO requirements for HVLTCB. 
Objective 3: Launch a demonstration at a TSO's premises to implement an integrated 245 kV/50 kA SF₆-free HVLTCB solution on its transmission network. 
Objective 4: Integrate 420 kV/50 kA and 550 kV/50 kA technical requirements into the new HVLTCB design to ensure a solution covering the entire 50 Hertz (Hz) range of high voltage air-insulated substation applications. 
TSOs to play major role 
Similar to SSEN Transmission's involvement with the LifeGRID project (also co-funded by the EU Commission's LIFE Programme) in Scotland, RTE, red eléctrica and Energinet (respectively the French, Spanish and Danish grid operator) will play a crucial role in the development of our 245 kV g³ LTCB: 
Confirming the feasibility of our project.  

Bringing their technical expectancies as grid operators so that the breaker in development corresponds to the widest number of European TSOs' requirements, ensuring a smooth and rapid transition away from SF₆. 

Individually or collectively having the opportunity to implement the first 245 SF₆-free g³ circuit breaker on their respective network(s). This will allow GE to validate the product while also giving the TSOs the ability to prepare themselves for a rapid transition to SF₆-free solutions at any rated voltage on their network. With both national and European authorities pushing for SF₆ alternatives in high voltage networks, our LIFE SF6-FREE HV BREAKER project allows TSOs to get a reliable return on experience and trust in g³ solutions before changes come into effect. 
 All three TSOs agreed to further contribute and follow up on our LIFE SF₆-FREE HV BREAKER project. GE looks forward to meeting with the team again at the end of the year to review our progress, while welcoming other TSOs to join this working group.